Issue: How can I restore mails from a removed Thunderbird account when the files are still present on the filesystem?
This method of restoring mails does only work when there are still the necessary files on your filesystem present, e.g. if you have removed an account from Thunderbird but did not uninstall the program or purged the appdata subfolder of Thunderbird.
Source of this information:
http://kb.mozillazine.org/Recovering_deleted_mail_accounts
The emails are stored in the appdata folder which is found in the users directory. In the following example your user name and profile folder name will differ:
C:\Users\YourName>\AppData\Roaming\Thunderbird\Profiles\abc123.default\ImapMail\<MailAccount>
To restore the emails we're going to need an extension, which can be downloaded here:
https://freeshell.de//~kaosmos/mboximport-en.html
Navigate in Thunderbird to the hamburger menu and choose Add-ons.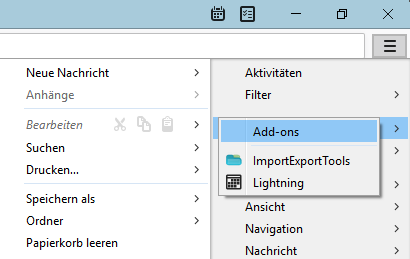 In the opening window choose to install an add-on from a file and select the XPI-file you just downloaded from the mentioned website.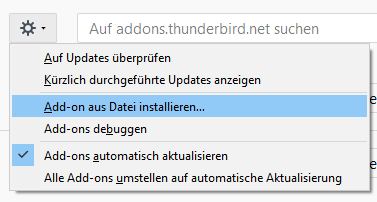 In Thunderbird overview page, where all your e-mail accounts are displayed, click on the local folder "account".
Then move to the hamburger menu and choose Extras -> ImportExportTools -> import Mbox-File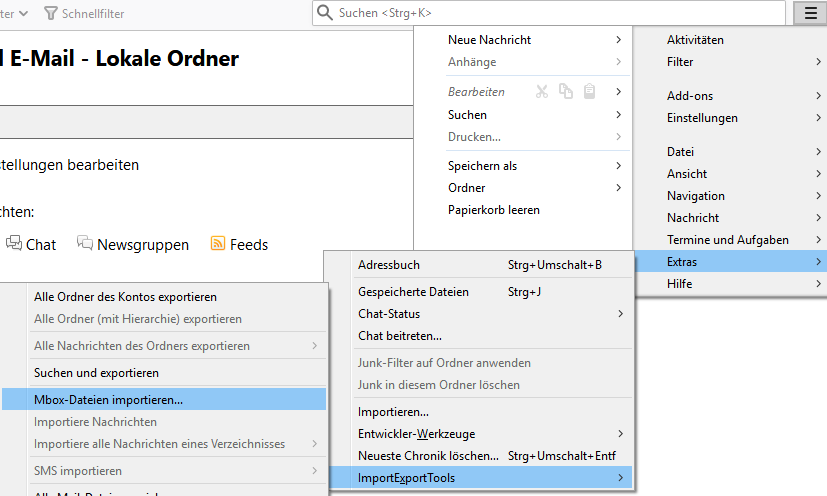 Choose to import a specific file or (as pictured) choose to import all files from a directory.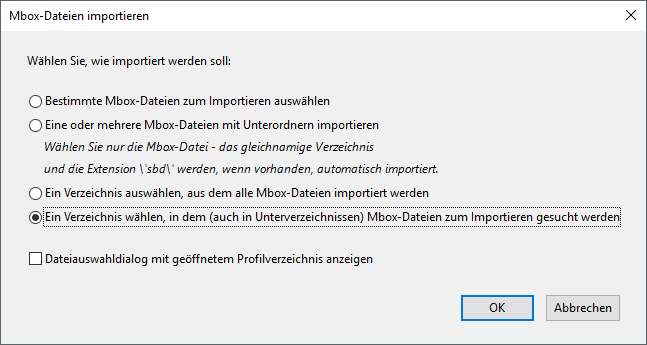 Navigate to the directory in appdata as mentioned before and choose one of the subfolders which are named after the mailserver. You will be prompted to import the files (e.g. INBOX, Sent).
The imported files will be displayed as a folder beneath the local folder "account" you've clicked on earlier and can be copied to another working account or exported to the filesystem.